CNC Routers
Our facility is equipped with a large format overhead gantry 5-axis CNC router. The router has a large working envelope of 20ft x 12ft x 5ft and is capable of milling precision parts. We needed a way to instill higher quality and efficiency into our radome development process. Through in-house milling, we now have the ability to create custom plugs and parts used in the development of our radomes.
Construction Features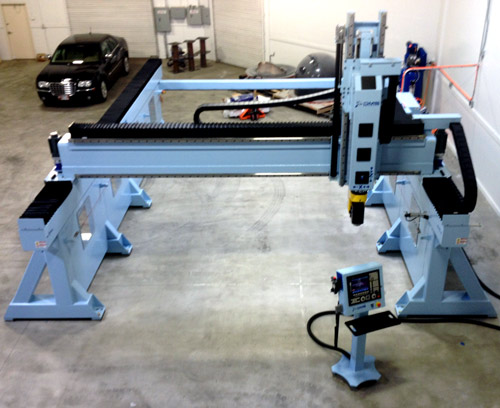 Precision Helical Rack and Pinion Driven Gantry
Leadscrew Driven Bridge and Spindle Z-Axis
Stress Relieved Steel with Precision Machined Surfaces
Machine Features
Moving Gantry Bridge Design, Stationary Table
20ft x 12ft x 5ft – Machining Length, Width, and Height
Spindle Speed to 22,000 RPM
Unlimited Continuous C-Axis Rotation Option
Virtual Zero Backlash Rotary Axes Positioning
Fagor Model 8055 Power Controller
Applications
Small to Large Format 5-Axis Machining and Surfacing
Model Making and Digital Sculpture
We also have a small 4′ x 8′ 3-axis router used primarily for cutting foam kits for our radome panels.