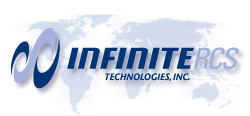 The Infinite Technologies RCS, Inc. (Radomes and Composite Structures) specializes in the design and manufacture of radomes for terrestrial and shipboard applications. We have built a sound reputation with a competent, complete spectrum team of engineers, analysts, manufacturing partners, and test personnel with many years of radome industry experience. We have a talented team of engineering professionals with experience in a variety of services that ensures we can meet your individual design, analysis, and composite structure needs.
We conduct business globally with an emphasis on providing better, lower cost radomes than our competition. We provide innovative radome designs that are cost-effective and have excellent durability and functionality in protecting most antenna applications.  Radome models are available in sizes from 4.6ft (1.4m) - 77ft (23.5m), and operating frequencies from VHF - Ka.  We also offer a wide variety of accessories that may be purchased with each radome.
In 4th quarter 2018 ITI-RCS began developing a new product line to complement our current radome offerings.  We now offer Metal Space Frame Radomes ranging in size from 18ft (5.5m) to 100ft (30.5m).  Metal Space Frame Radomes are desirable for broadband performance or high frequency applications X-Band and above.
If you are looking for a radome supplier or other radome services, please contact us for more information or a price quotation.
Company History
Our mission is to infuse quality into everything we do. We help our clients cut product development costs, shorten lead times, extend capacity, and maximize engineering resource availability by providing support across the complete product life cycle. We have built a sound reputation with a professional team of engineers, analysts, manufacturing partners, and quality and test personnel with over 20 years of industry expertise.
In February of 2002, growth in the logistics and depot maintenance sectors necessitated the opening of our branch office in Layton, Utah which later moved to Clearfield, UT. This branch focuses on corporate information technology business development to the Rocky Mountain territories along with worldwide government and commercial radome and composite structure design and build management.
In August 2012, we expanded further with the opening of an office in Reno, Nevada. This facility houses a research and development arm focusing on composite materials, prototyping, and structure development.
In March 2017, we opened in-house manufacturing capabilities at Ingenium, LLC in Reno, NV.  The facility boasts radome specific manufacturing capabilities in its 54,000 square feet of production space.
In July 2019, Infinite Technologies RCS, Inc. was established as a stand-alone company due to the tremendous growth experienced over the past several years.  The corporate headquarters is now located in Clearfield, UT with all manufacturing for composite radomes performed at Ingenium, LLC in Reno, NV.
Since 1994, Infinite Technologies, Inc. has provided world-class support and service. It now employs a large staff of highly trained specialists in fields including radio frequency analysis, composite structural design, structural analysis, as well as information systems engineering.
Mission
Our mission is to provide superior products and services through limitless commitment to excellence, quality, selfless service, and unwavering ethical and moral standards. We aim for technical superiority in all aspects of the projects we undertake, and we believe innovation will bring us to the forefront of the competition. Regardless of the division in which they serve, our people share the following core beliefs: innovation is exciting, technical excellence is absolutely necessary, and the products and services we provide will meet all customer expectations.
Customer feedback
We strive to provide excellent service in terms of quality of work, timely delivery, innovative products, professional behavior, customer service, and value for money. That is why we are delighted when we receive feedback from our customers, like the examples below:
". . . . We definitely want to thank you guys for your support during the endeavor; you guys went over-board with ensuring we had everything required for the radome installation . . . we appreciate that. Rest assured, we will be doing business again, and I will definitely recommend you guys without hesitation for business in the future. Thanks again!" -- Radome Customer
". . . . It has been my observation that program offices have been quick in the past to come down on contractors when things are not going well, but slow to acknowledge success. I would like to offer congratulations on the part of our program office on a very successful drawing review held at Infinite Technologies yesterday. I believe that we have a good handle on any and all missing information and was very pleased to see that. Even though the documentation was only a draft, the corrections found were very few and minor. Again, congratulations on a job well done."  -- Government Services Customer
Quality Focus
ITI-RCS demonstrates its commitment to quality by establishing, documenting, implementing, maintaining, and improving a quality management system. ITI-RCS recognizes that no system, process, or human is foolproof, and that mistakes and defects will be made. However, ITI-RCS also recognizes that robust policies and procedures help mitigate quality risks. As such, ITI-RCS has developed a quality manual with supporting procedures that will help to effectively identify and consistently deliver on customer requirements and enhance customer relationships.
Research
We believe that through innovation and constant process improvements, we will become a leading global provider of composite radomes and services. In an effort to improve our radome and other composite product lines, ITI-RCS is committed to continuous research in the following areas:
Better corrosion resistance
Higher durability
Less maintenance
"Green" RF transparent and harsh environmentally tolerant materials
Simplified installation
Decreased cost of ownership
Easier to install and transport
For additional information on the research we are doing contact us.